Here at Primary Care Animal Hospital, we are proud to provide a team of friendly, experienced veterinarians and support staff to care for your pet. Our doctors, technicians, and office staff strive to provide the best care available, and each member of our team has a history of caring, compassionate service.
Explore our staff biographies to learn where we're from, how we came to veterinary medicine, and why we love the work we do!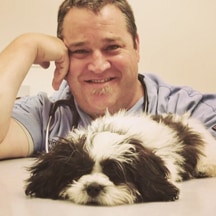 Dr. Cody Lewis, DVM
Practice Owner/Medical Director
Dr. Cody Lewis grew up in Northern California, where his father was a farrier (horseshoer) and raised livestock. After being raised around animals and inspired by his father's love for them, he was driven to pursue a career as a veterinarian. He attended Cal Poly for his undergraduate studies in biochemistry and instantly fell in love with the Central Coast. He then went on to complete his Doctorate of Veterinary Medicine at Kansas State University.
As the owner of Primary Care Animal Hospital, Dr. Lewis works with small animals and practices strict guidelines issued by the American Animal Hospital Association (AAHA). At PCAH and our sister hospital, Animal Hospital of San Luis Obispo, Dr. Lewis and his team hold themselves to the highest standards in veterinary medicine and strive to deliver excellent care to every pet. Why? Because pets deserve nothing less!
Dr. Julia Kruep, DVM
Associate Doctor
Growing up in the Bay Area, Dr. Julia Kruep felt a connection to animals early on. As a kid she loved taking trips to the Monterey Bay Aquarium, riding horses, and spending time with her family's dog Greta. She left home to complete an undergraduate degree in biology at the University of Notre Dame (Go Irish), but was happy to return to warm California for her veterinary studies at UC Davis, where she graduated in 2019.
Dr. Kruep appreciates the continual learning that comes along with being a veterinarian. She also enjoys hearing each pet's individual story and how they became part of their family. In her free time, Dr. Kruep likes reading, running, skiing, and searching for new food to try with friends and family. Pets at home include Tank the box turtle and Fiona the British Shorthair cat, both of whom are grumpy (but very lovable).
Alyssa M.
Lead Vet Tech/Manager
Alyssa grew up in Northern California and moved to the Central Coast in August 2012. She has had a deep love for animals since she was young, and as a child she dreamed of turning this passion into a career. Alyssa started her journey in the veterinary field in 2010 as a kennel assistant, and her hard work earned her a promotion to veterinary assistant. She joined the PCAH team in March 2014, and she has since completed a college certificate in Veterinary Technology. Now 10 years into her veterinary career, Alyssa heads our hospital as our manager and lead veterinary technician. She has two pups, a Yorkie named Jaxx and a shepherd named Kimber, and her favorite weekends include trips to Disneyland with her husband Brice.
Leah S.
Veterinary Assistant
For as long as she can remember, Leah has always wanted a career that involved working with animals. She grew up always surrounded by a bevy of loving critters that include cats, dogs, birds, rabbits, rats, chickens, ducks, reptiles, and even sugar gliders. Her other passions in life consist of video games, drawing, and cooking. Sometime after moving to the SLO area in 2017, she decided to give the veterinary assistant program at Cuesta College a shot. After receiving her certificate, she landed a position as a veterinary assistant at PCAH in February 2020. She hopes to someday become a certified veterinary technician with the valuable experience gained through her work here.
Emily
Veterinary Assistant
Emily is a born and raised California girl, a graduate of Righetti High School, and a licensed massage practitioner. She has grown up around animals all her life from dogs and cats to rabbits, fish, and reptiles. Emily has made many friends along the way. The most recent accomplishments were made at the Santa Ynez Humane Society. Putting in 5 years of hard work and dedication to helping animals in need. She and her two rescue Chihuahuas have made their way to Primary Care, where she plans to continue in expanding her knowledge from animal behavior to animal medicine.
Leslie
Veterinary Assistant
A California native, born and raised on the Central Coast. Leslie has always had a passion for rescuing and caring for animals. She worked at the Santa Ynez Valley Humane Society for 3 1/2 years before joining the team at PCAH. She will begin her journey to become an RVT in the summer through Allan Hancock College. She has a soft spot for Corgis, especially her 9 year old girl, Foxy. One of her favorite things to do is fostering kittens, puppies and adult dogs. She even adopted her most recent foster kitten, Nala. In her free time, you will find her with friends and family or at the dog park with Foxy.
Heather Lewis
Practice Administrator
Heather wears many hats for Primary Care Animal Hospital and Animal Hospital of San Luis Obispo, including managing the central business office and financial operations of both clinics. When she is not in the office, you will find Heather enjoying her time with husband Cody and son Noa. She loves to involve their beloved dogs Wyatt Earp, Skylar, and Cali in their outings, especially taking the whole family to the beach. Heather is thankful for the opportunity to be part of the wonderful pet-friendly and family-oriented community PCAH supports!
Jazzmin L.
Reception
Jazzmin is a Central Coast native with a long history of rescuing and caring for small animals. She grew up with dogs, cats, bunnies, ducks, chickens, and guinea pigs, and worked at Santa Maria Valley Humane Society before coming to PCAH in 2018. Jazzmin is enrolled at Allan Hancock College and is studying to become a Registered Veterinary Technician (RVT). She dreams of one day starting her own animal sanctuary. Jazzmin has two dogs, a miniature Pinscher/dachshund mix named Jax and a Chihuahua/pug mix named Riley.
Rylee M.
Receptionist
Rylee has lived on the Central Coast all her life and has always had a love for all sorts of animals, like dogs, cows and pigs. She has two furbabies of her own; Lucy, a Chihuhua and Cowboy, a Basset Hound. Rylee has several hobbies, but she loves to travel, make new friends and her most favorite is napping. She plans on continuing to pursue her admiration of animal health and well-being with becoming a Veterinary Technician. Anytime you visit PCAH, Rylee will always greet you with a welcoming smile and a treat for your furbaby.
Kayla
Receptionist/Pharmacy Assistant
Kayla was born and raised on the central coast, growing up at the beach and spending summers in the mountains hiking, rafting and fishing. She grew up with her puppy Champ, kitten Grace and bunny Flopsy. She has always loved animals and dreamed of working as a Vet as a child and was thrilled to start working around animals at PCAH. Kayla and her husband have a corgi named Jack Harlow. She loves to spend time with her son, and you can often find her rollerskating bob jones trail.
Anita W.
Accounting Department
Bio Coming Soon!