Here at Animal Hospital of SLO, we are proud to provide a team of friendly, experienced veterinarians and support staff to care for your pet. Our doctors, technicians, and office staff strive to provide the best care available, and each member of our team has a history of caring, compassionate service.
Explore our staff biographies to learn where we're from, how we came to veterinary medicine, and why we love the work we do!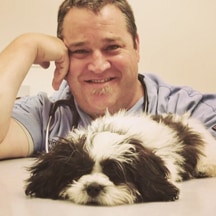 Dr. Cody Lewis, DVM
Practice Owner/Medical Director
Dr. Cody Lewis grew up in Northern California, where his father was a farrier (horseshoer) and raised livestock. After being raised around animals and inspired by his father's love for them, he was driven to pursue a career as a veterinarian. He attended Cal Poly for his undergraduate studies in biochemistry and instantly fell in love with the Central Coast. He then went on to complete his Doctorate of Veterinary Medicine at Kansas State University.
As the owner of Primary Care Animal Hospital, Dr. Lewis works with small animals and practices strict guidelines issued by the American Animal Hospital Association (AAHA). At PCAH and our sister hospital, Animal Hospital of San Luis Obispo, Dr. Lewis and his team hold themselves to the highest standards in veterinary medicine and strive to deliver excellent care to every pet. Why? Because pets deserve nothing less!
Dr. Katherine Bennett, DVM
Associate Doctor
Dr. Bennett is originally from Washington State. She grew up in a family of teachers, and originally attended college with an acting scholarship and intentions to teach abroad. While in college, she was strongly drawn to veterinary medicine, and she earned her Doctorate of Veterinary Medicine at Washington State University in 2008.
Dr. Bennett worked for 8 years in a small animal practice in Wenatchee, WA with a special focus on teaching science and methods of preventive medicine to the local community. She also aided in her clinic's efforts in working with the local animal shelter to provide quality medicine to any animal in need. Dr. Bennett moved to the Central Coast in 2016; she worked at a practice in Lompoc pursuing innovative healing techniques such as laser therapy before joining the Primary Care team in early 2019. In her free time, Dr. Bennett enjoys hiking and fishing with her husband, and trying her hand at cooking and gardening.
Alyssa M.
Lead Vet Tech/Manager
Alyssa grew up in Northern California and moved to the Central Coast in August 2012. She has had a deep love for animals since she was young, and as a child she dreamed of turning this passion into a career. Alyssa started her journey in the veterinary field in 2010 as a kennel assistant, and her hard work earned her a promotion to veterinary assistant. She joined the PCAH team in March 2014, and she has since completed a college certificate in Veterinary Technology. Now 10 years into her veterinary career, Alyssa heads our hospital as our manager and lead veterinary technician. She has two pups, a Yorkie named Jaxx and a shepherd named Kimber, and her favorite weekends include trips to Disneyland with her husband Brice.
Kimberly B.
Veterinary Assistant
Kim's love for animals began at an early age. She moved from Southern California to the SLO area in 2014 to attend Cal Poly, and she is currently pursuing her Bachelor's degree in animal science. In January 2018, Kim began working at PCAH as a veterinary assistant to gain technical skills and explore the possibility of a career in veterinary medicine. Kim lives in the South County with her three dogs; when she's not working or studying, she enjoys hiking and spending time at the beach.
Becky H.
Veterinary Assistant
Becky has lived on the Central Coast for over a decade, and she has been working in the veterinary field since she was a teenager. She joined the PCAH team in January 2019. With 16 years of clinical experience in the SLO community and beyond, she brings a wide variety of skills to both our reception and technician teams, and is always willing to help out to ensure our patients receive the best care throughout their visit. In her free time, you can find Becky exploring our outdoor spaces with her fiancé and two pups, Max and Roxy.
Heather Lewis
Practice Administrator
Heather wears many hats for Primary Care Animal Hospital and Animal Hospital of San Luis Obispo, including managing the central business office and financial operations of both clinics. When she is not in the office, you will find Heather enjoying her time with husband Cody and son Noa. She loves to involve their beloved dogs Wyatt Earp, Skylar, and Cali in their outings, especially taking the whole family to the beach. Heather is thankful for the opportunity to be part of the wonderful pet-friendly and family-oriented community PCAH supports!
Jazzmin L.
Reception
Jazzmin is a Central Coast native with a long history of rescuing and caring for small animals. She grew up with dogs, cats, bunnies, ducks, chickens, and guinea pigs, and worked at Santa Maria Valley Humane Society before coming to PCAH in 2018. Jazzmin is enrolled at Allan Hancock College and is studying to become a Registered Veterinary Technician (RVT). She dreams of one day starting her own animal sanctuary. Jazzmin has two dogs, a miniature Pinscher/dachshund mix named Jax and a Chihuahua/pug mix named Riley.
Esperanza V.
Reception/Assistant Float
Esperanza is a Central Coast native and life-long animal lover. She first came to PCAH as a high school intern in spring 2018, and she impressed us so much that she was offered a full-time position after graduation. Esperanza's hard work and dedication since then have led to her promotion to our reception team, and she is also learning to assist our technicians with patient care. Esperanza is an active member of the local horse club Los Charros Unidos de la Costa Central, and in her free time she loves riding her horses, Canelo and Regalo, and spending time with her friends and family.
Tehlor B.
Receptionist
Tehlor was born and raised on the Central Coast, and she has had a love for animals since she was a little girl. Before joining the PCAH team, she worked at Lucky Dog Pet Resort for over three years. Tehlor has a "fur child" named Cali, a black lab mix. In her free time, Tehlor enjoys taking Cali on adventures, watching Netflix, and spending time with friends and family.
Anita W.
Accounting Department
Bio Coming Soon!