Thank you for visiting our page to learn about the team at Primary Care Animal Hospital! We are pleased to be staffed with a team of friendly, experienced veterinarians and support staff to care for your pet.
Our team is currently in the process of updating their biographies so check back soon to learn even more about the team providing quality care to your pet!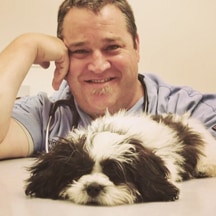 Dr. Cody Lewis
DVM – Practice Owner/Medical Director
Dr. Cody Lewis grew up in Northern California, where his father was a farrier (horseshoer) and raised livestock. After being raised around animals and inspired by his father's love for them, he was driven to pursue a career as a veterinarian. He attended Cal Poly for his undergraduate studies in biochemistry and instantly fell in love with the Central Coast. He then went on to complete his Doctorate of Veterinary Medicine at Kansas State University.
As the owner of Primary Care Animal Hospital, Dr. Cody Lewis works with small animals and practices strict guidelines issued by the American Animal Hospital Association (AAHA). AAHA is the only organization to accredit companion veterinary hospitals in the U.S. and Canada. At our two hospitals, Dr. Cody Lewis and the team hold themselves to a higher standard in veterinary medicine. Pets are their passion, and keeping them healthy is their #1 priority. They strive to deliver excellent care for pets. Why? Because pets deserve nothing less.
Dr. Katherine Bennett
DVM
Bio coming soon!
Heather
Social Media/Marketing Director
Heather wears many hats for Primary Care Animal Hospital and Animal Hospital of SLO. She manages the central business office and financial operations of the clinics. When she is not at the business office, you will find Heather enjoying her time with Cody Lewis and their son Noa. She loves to incorporate their outings with their beloved dogs Wyatt Earp, Skylar and Cali. Heather is thankful for the opportunity to be part of a wonderful pet-friendly and family-oriented community!
Alyssa
Veterinary Assistant Supervisor
Alyssa grew up in Northern California and moved to the Central Coast in August 2012. She has had a love for animals since she was a child and has always dreamed of working with them. She started her journey in the career field in 2010 as a kennel assistant and worked her way up to becoming a veterinary assistant. She joined the PCAH team in March 2014. In her off-time, she enjoys spending time with her husband, Brice, and her two pups, Jaxx and Kimber, and taking advantage of their annual passes to Disneyland.
Sonja
Veterinary Assistant
Sonja is a Central Coast native who has been serving animals and their human companions since childhood. She was trained in veterinary medicine, animal behavior, and animal welfare at the University of British Columbia and University of Hawaii at Manoa. She has also worked in diverse animal care fields such as wildlife rehabilitation, field research and conservation, zoo work, and animal rescue. Sonja interned with Dr. Lewis almost a decade ago when she was a veterinary medicine student and she is very grateful to return to the Primary Care family as a veterinary assistant.
Sonja spends her free time enjoying our beautiful local outdoor spaces with her dog, Rosie, and adventure kitties, Tom and Rey (all 3 of which are rescued!).
Christine
Veterinary Assistant
Christine joined our team here at Primary Care in February 2018. She has 15 years of experience in the veterinary field.
Christine states:
My family and animals come first. I enjoy caring for animals. It is something I love to do and I enjoy going to work every day knowing the fact I'm going to help a pet. I am honest, caring, intelligent, hardworking, and loving. I have a great sense of humor. I believe in success through hard work and dedication. if you want something, work hard and you will achieve it. I enjoy life to the fullest.
Kimberly
Veterinary Assistant
Kimberly's love for animals began at an early age in life and it continues at Primary Care, which she recently joined in 2018. She currently lives with her three dogs and is in the process of obtaining her bachelor's degree in animal science at Cal Poly.
Jordyn
Receptionist
Jordyn has lived on the central coast for approximately 15 years after her family relocated here from Las Vegas, NV. She has been an animal lover her entire life and has been in the animal care field for 10+ years from horse farms to boarding kennels and humane societies and now veterinary medicine. She enjoys and has a passion for working with and helping the clients and patients that visit us at Primary Care on a daily basis. When not at work, Jordyn enjoys spending her free time outdoors riding horses, going to the beach and lake, and spending time with her husband, John, her daughter, Quinn, and their Catahoula Leopard Dog, Gunner.
Jazzmin
Receptionist
Our pet loving animal enthusiast, Jazzmin, has always lived on the central coast doing what she does best – caring and loving fur babies! A brief background of Jazzmin is that she has donated a good portion of her life either caring, rescuing, housing, and raising just about every different type of animal life. These include dogs, cats, bunnies, ducks, chickens, birds, and guinea pigs. Though Jazzmin raised somewhat of a farm, her dream is to also own a huge land of her own to continue loving and caring for every animal known possible!
Jazzmin not only cares for animals at Primary Care but also has a couple of fur babies of her own. One of her furry canines, a half miniature pincher/dachshund, goes by the name of Jax. The other half chihuahua/pug mix goes by the name of Riley.
She is currently striving to become a RVT and is enrolled at Allan Hancock College. She previously worked at Santa Maria Human Society performing care, rescue, and inspiring others in the beauty of adoption with the well-known phrase, "Adopt! Don't Shop!".
She is currently one of our newest members at Primary Care. If you haven't been introduced to her yet, you surely will! Jazzmin is a very positive, free spirit and will always have a welcoming smile on her face the moment you step through the doors at Primary Care.
Anita
Accounting Department
Bio Coming Soon!